Two Rivers Family Dental fundraiser for Haiti
Dr. Hansen and Dr. Meunier and the team at Two Rivers Family Dental would like to express our gratitude to the Two Rivers community for the overwhelming response to our recent Pub Crawl fundraising event benefiting our Mission work in Haiti. All totaled the event raised over $12,000. The money raised will be used for purchasing needed supplies, upgrading equipment and providing support for Sister Maria's ongoing mission work in Haiti and Dominican Republic. Your support will go a long way to providing relief for people who have very little access health care services and have immense needs for the most basic services. A special shout out to our sponsors, Seehafer Broadcasting, Two Rivers Family Restaurant, Schmitz Amusements, Just Orthodontics, Oral & Maxillofacial Surgeons of BayCare Clinic, Manitowoc County Tavern League and Scott's Vending, Inc.. Also a big thank you for Two Rivers tavern sponsors: Tippys Bar, Lee's Never Inn, City Central Bar and Grill, Berserkers, Lonz's Tannery Club, Waverly Inn Pub & Pizzeria, Phil & Michelle's Bar and Grill, Grizzlys Pub and Grill and our fantastic host Whisky D'S. We so appreciate your support! Please look for the updates on our Mission work on our Facebook page in February 2020. Thank you Two Rivers and the Lakeshore for a great turnout and look forward to seeing you at next year's fundraising event.
Join Us For Our 2nd Annual Haiti Dental Mission Pub Crawl
TRFD Breaks Ground For Expansion
A little rain couldn't stop us from celebrating the groundbreaking on the new 2,200 sq. ft. expansion and 2,500 sq. ft. renovation project at Two Rivers Family Dental, located at 2209 Forest Ave. The project will include a new welcome area, additional patient treatment areas, updated state of the art technology, expanded off street parking and a renovation of the existing facility to better serve patients and the community.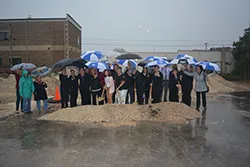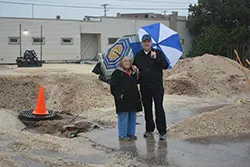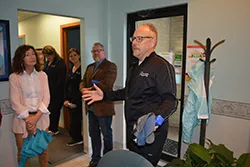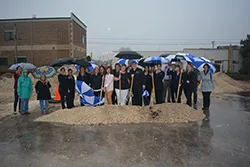 Two Rivers Family Dental Expansion will bring operations to one location.
Two Rivers Family Dental is renovating and expanding the office at 2209 Forest Avenue in Two Rivers, and will combine all operations at this single location by early next year. The practice has been serving the needs of people in the Two Rivers area for the past 5 years and is owned by Dr. Chris Hansen with Dr. Jamie Meunier as an associate dentist. The practice is the result of the merger of three separate dental practices, including that of the late Dr. Dale DeSteffen and two retired dentists, Dr. David Loritz and Dr. Michael Furlong.
Dr. Chris Hansen has made the lakeshore area his home for the past 34 years. He is originally from Milwaukee and graduated with a DDS from Marquette University School of Dentistry in 1983. He and his wife Ann have two adult children.
Dr. Jamie Meunier, a Manitowoc native, earned her DMD from the University of Louisville School of Dentistry in 2018. Dr. Jamie and her husband Derek moved back to the lakeshore area, where she joined Dr. Hansen.
Dr. Hansen and Dr. Meunier believe in developing relationships with their patients, focusing on their individual needs and concerns. The guiding principle for the practice, Delivering Excellence...One Patient at a Time, is more than just a slogan. Every new patient is seen first by the doctor for a comprehensive exam, followed by an education and findings appointment before any treatment is started.
Two Rivers Family Dental incorporates the latest technology to drive excellence in patient care. They use low radiation digital x-rays, intra-oral cameras, CariVu cavity detection and non-surgical laser treatment for gum disease. The iTero scanner technology makes it possible to create crowns, bridges and partials without impressions. The doctors are certified providers for Invisalign clear aligner therapy for minor orthodontics. For the anxious patient, oral and IV sedation is also offered.
Dr. Hansen's special interest is in treating TMJ, headaches and helping to manage snoring and sleep apnea with oral appliances. Dr. Hansen has also taken extensive training to be able to offer BioRejuvenation Dentistry. This technique helps to restore worn, chipped teeth and damaged bites, often with only direct bonded composite material. For more information, go to: www.tworiversfamilydental.com /Biorejuvenation.
Two Rivers Family Dental is committed to the community and to the dental profession. The staff has volunteered many hours to local organizations, including Big Brothers/Big Sisters, Heart-a-Rama and Carpfest. Dr. Hansen has led two dental missions to Haiti in the past two years and is planning a 3rd Haiti dental mission in winter, including Dr. Meunier and several dental team members.
ACE Builders has been contracted to construct the 2200 sq. ft. expansion and renovation of the existing facility on Forest Ave. The project will include additional off-street parking, a new reception area and additional patient treatment operatories. The projected completion date is February 2020.
A mock-up of Two Rivers Family Dental's planned 2,200-square foot expamsion and renovation of its existing facility on Forest Avenue.
Haiti Dental Mission Pubcrawl Update

Read the latest and learn how to registar or donate tho this worthy cause: Announcing 2nd Annual Haiti Dental Mission Pub Crawl
Los Cacaos, Haiti Dental Mission

We had a wonderful mission experience providing dental services for a second year in Haiti. This year we were fortunate to have about half of last year's dental team return for a second mission. Read more about the Los Cacaos Haiti Dental Mission
TRFD Attends Big Brothers Big Sisters, "Bowl For Kids Sake" 2019!
TRFD participated in Big Brothers Big Sisters, "Bowl For Kids Sake" 2019! March 2nd at Rudy's Lanes in Two Rivers, WI.
Read all about the event: TRFD Attends Big Brothers Big Sisters
Two Rivers Family Dental Attends Chicago Dental Convention

The convention offered the opportunity to learn from the leaders in dental education.
Read more about the convention: Two Rivers Family Dental Attends Chicago Dental Convention